Pure One™ DHA Maker Brings a Heart to Algae Oil, Calls on India's Distributors to Learn More About New Vegetarian Source of Omega-3s
The export of algae oil omega-3s is a contribution that the United States of America can make to the world. "It is not the algae oil for fuel ideas being spun around, it is the 100's of millions of dollars annual world market for algae oil foods and nutraceuticals, something distributors in India should know more about," says Dr. Scott Doughman, founder of Source-Omega in the US.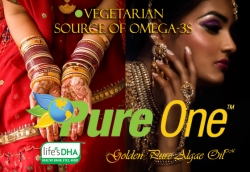 Bangalore, India, March 31, 2010 --(PR.com)-- The Source-Omega company announced today their products are available to the world with an eye on India. The company is providing their US patent pending "metabolic ratio" of DHA and EPA omega-3 products from algae oil.
There are at least two companies exporting algae oil from the US. One is Source-Omega™, the makers of Pure One™ supplements containing Golden Pure Algae Oil™.
"We bring a heart to algae oil. We want to go where there is the greatest need. India is an important partner country where half of its adult population has high cholesterol and a third have high triglycerides. Source-Omega's products and co-therapies are vegetarian replacements for fish oil, capsule for capsule," says Dr Doughman, Ph.D., Biochemist and Lipidologist.
Recent clinical reviews indicate algae oil gives the same or better results as fish oil, without the fish. Bolohealth.com reported on India's cholesterol issue. Dr. Doughman is also a Visiting Faculty at Indian Universities working on topics "Serving Diabetes."
"My three years of market research in India combined with what we believe is a tremendous public health need suggests we can serve India as a true and faithful partner. Over the past 10 years I have been visiting some of India's greatest academic and clinical institutions. The nutritional research I started in the US has moved over to India. The work was of interest because the need and application are merged in one algae oil solution for all vegetarian Hindu's and for all people. India has the largest vegetarian population in the world. India also has the fastest growing number of new diabetic patients and new heart disease patients. Our product need distribution in India. We call upon distributors in India to contact us."
The company points out the role Source-Omega plays in serving DHA-rich algae oil to the world is easy to remember. The company's position is that "D" is for Diabetes, "H" is for Heart Disease and "A" is for Alzheimer's, DHA. They provide ample certificates and references for clinicians and scientists requesting more information.
About Source-Omega, LLC, Chapel Hill North Carolina, USA: Source-Omega is located near the Research Triangle Park and was founded in 2007 for specializing in the manufacturing, branding, and globalization of algae oil nutritional products as an exclusive distributor of the brand name Pure One™, Golden Pure Algae Oil™ for their Omega-3 DHA Therapy™, for clinics offering triglyceride lowering plasma lipids management programs and for pregnancy, nursing and family care. Dr. Scott Doughman, Ph.D. Phone: +19193605275, Web:
www.source-omega.com